Powder Coating Troubleshooting Guide
Chapter One: Early Powder Coatings, Uses, and Types
Porcelain and other vitreous enamels are among the earliest of dry coatings and began appearing around 1000 B.C. Porcelain was used extensively on cast iron starting in the mid-19th century. By the 1950's, the first organic coating, thermo-plastic vinyl, was being applied with a fluidized bed. In France, the first commercial applications of epoxies began in 1962, spray application appears in Europe in 1968, and European technologies appear in the U. S. in 1972. By the early 1980's, smoother and thinner film coatings add economic advantages leading to a dramatic growth in the use of electrostatic coatings.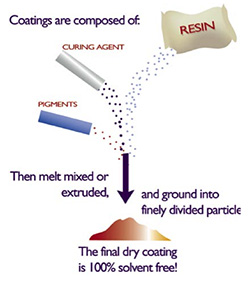 Where Powders Are Used:
Around the Kitchen:
Washer/dryer shells and motor casings; refrigerators, refrigerator shelving and motor casings; faucets, sinks, and small appliances.
Outside the House:
Lawn and garden tools, mowers, edgers, and patio furniture.
In the Workplace:
Computer hardware, office furniture, filing cabinets, storage and display shelves, warehouse racks, lighting fixtures.
Heavy Equipment:
Agricultural mowers, irrigation equipment, tillers, and construction earth moving equipment.
Building Products:
Rebar and steel cable, columns, water treatment facilities, HVAC units, gas and oil transmission lines, windows, sliding doors, canopies, and architectural decoration.
Transportation Equipment:
Truck and trailer wheels, mirrors, supports, frames, steering wheels, wipers, springs, shocks, and other miscellaneous auto parts.