TruErase: White board powder coatings
Economical powder coatings for white board applications.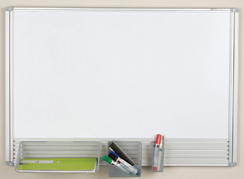 TCI Powder Coatings has created a powder coating that offers a very economical cost per square foot when compared to high-end white boards and has been tested to dramatically reduce the chance of "ghosting" or "shadowing." Our TruErase product line will give you a great product at a very economically applied cost.
White boards have been around for years and offer great ways to share information to a group, erase, and start over again and again. The issue has typically been cost and performance. High end white eraser boards can cost $25 to $50 per square foot and In some cases approach $100 per square foot. In these cases you are typically getting a porcelain enamel finish. The inexpensive boards use lower performing coatings and/or films and have issues with "ghosting" or "shadowing," which means marker is left on the board for an extended period of time, leaving a residue that can often times never be removed.
Features and Benefits of our White Board Powder Coatings
Economical cost per square foot compared to high-end white boards
Reduced chance of "ghosting" or "shadowing"
TruErase Products
| | | | | |
| --- | --- | --- | --- | --- |
| Product Name | Product Code | Gloss | PCI Smoothness | Pencil Hardness |
| Crystal Eraser White | 8800-92213 | 80 - 90 | 7 | 3-4H |
*See Technical Data Sheets for complete technical information.
**TruErase powder coatings should maintain a storage temperature of 75° or less for optimum storage results.
***All lab testing was completed with indelible markers designed to be used with dry erase marker boards.


Contact us today to speak with our experienced team about how we can help you with your powder coating needs.